More than 90% of all wildfires are caused by people (wow!)
A few members of the City of Vista Fire Department were gracious enough to meet my colleagues and I recently to discuss fire mitigation in the rural parts of Vista(County area mainly) and surrounding areas and what special risks the recent rain creates.
This is part 1 of a multi-part discussion and I asked them:
"What should Vista area homeowners be doing right now, July 2023, to prepare for the peak San Diego wildfire season?"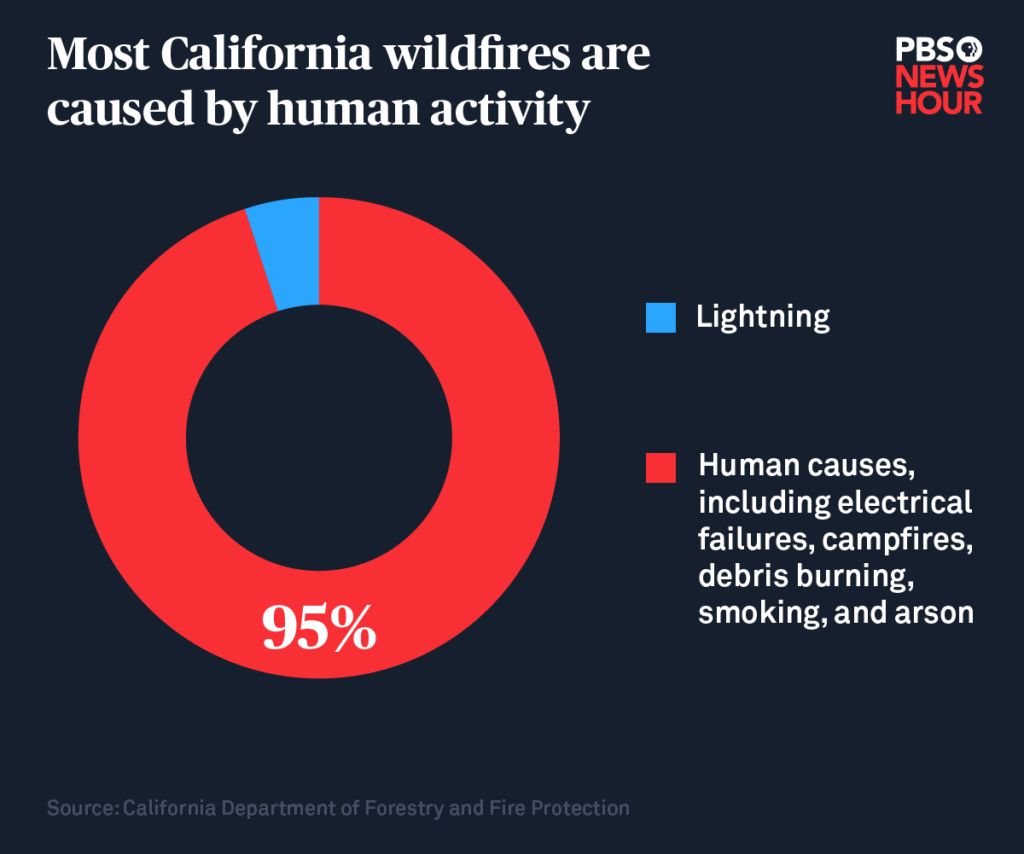 In this first release I share tips and information they provided around creating defensible space including tasks you should do right now if you have not already, some very easy and inexpensive ways to create defensible space, and what is fire hardening.
As peak fire season approaches in North San Diego, it's crucial to recognize that more than 90% of all wildfires are caused by human activities. However, as humans, we can also play a pivotal role in slowing or preventing their spread. Creating defensible space around our homes is a powerful measure to impede the advance of wildfires and safeguard the lives of our loved ones. In this article, we delve into the concept of defensible space, its importance, and practical steps Vista area homeowners can take to prepare for the upcoming wildfire season.
      What is Defensible Space and why do I keep hearing about it?
Defensible space is exactly what it sounds like, space or a "buffer" around your home between the structure of your home and the grass, trees, and shrubs or native vegetation and any wildland area around it. That space is what slows or stops a wild fire from rapidly consuming your home and it's contents. It also helps create space between your home and things already on fire that spit out hot embers or catch fire to anything close through radiant heat. It also helps slow the fire and protect homes further down the path of the fire from yours. All of us have a responsibility to do our part to mitigate the risk to our Vista, CA homes. (real estate is pretty expensive in Vista if you have not heard)
How much is enough defensible space around my North San Diego County home?
Great question. Defensible space is cool (yes, I said it) but how much is enough? In rural North San Diego County, the guidance right now is to work with roughly 100′ around your home and structures. Within that 100′ the goal is to create 2 separate zones, one from 0-50′ from your home and another from 50-100′.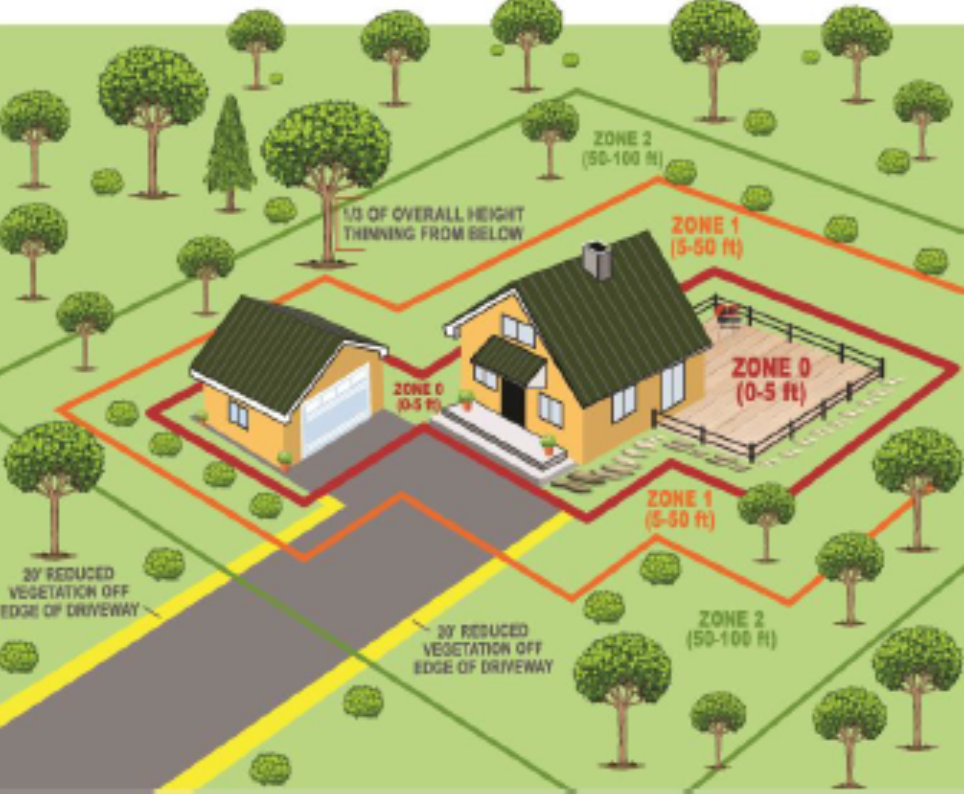 Zone 1, the "Lean, Clean, and Green Zone"
From 0-50′ the goal is little or nothing combustible, especially during high fire season. In 2023 this is especially important since we received so much rain. At my home in Buena Creek everything is sprouting up and some of it is past sprouting and starting to brown. We had a couple of fruit trees not producing and just sucking up water and creating a potential fire hazard so my wife had them removed this last week. In addition to that the slope behind our house has already been weed whacked once and may need more. Here is a quick hit list you can use from 0-50′ around your home.
Lawn, weeds, landscaping, any anything else growing within the first 50′ of your home should be properly maintained.
Thin and properly prune the brush and trees in this area.
Clean all needles, leaves, and anything combustible from your roof.
Trim tree limbs at least 10′ from chimneys and cut down anything hanging over your home, garage, or structures.
Check your chimney if you have one, it should have a screen with no more than 1/2″ mesh. This is also a good time to make sure your rain cap is properly secured. A reputable Chimney Sweep like Tom & his team at Chim Chiminey Sweep in Vista, CA can help, call me if you need another.
Firewood, as a busy realtor I see this often, firewood stacked up near a home. Firewood should be stacked at least 30′ from any structures and ideally under the shade of a tree.
Propane tanks, we all have them(or at least a lot of us including me). It is important to remove any items that will easily ignite within 10′ of your propane tanks.
Zone 2, the "Reduced Fuel Zone"
From 50′ – 100′ the goal is to create a "reduced fuel zone" or buffer between your home and the natural vegetation. In this area you want to strive to reduce combustible vegetation which seems to be growing wild this year. Combustible vegetation is any material that will readily ignite in it's natural state, burn and cause fire to move to any structure or other vegetation. Since our meeting with the Vista Fire Department I have been naturally noticing a lot more fire risk around town. As I was driving down Hacienda on the South side of 78 this morning I noticed all the grass and brush is overgrown very close to numerous homes. If a spark comes off the freeway this whole area could catch. Around rural Vista homes like mine, naturally combustible vegetation would include dry grass, brush, weeds, litter and waste. This would not include fire resistant landscaping some of which can be found in the "Suggested Plant List For Defensible Space" I have linked for you. This is a very good resource if you are looking for fire resistant items you can plant. Typically these are plants that grow low or close to the ground, have a low sap content, and are drought tolerant.
Do you or someone you know need help creating defensible space? Here are a few resources to get free help.
In Zone 2 cut annual grasses down to a maximum of 4″
Loose surface litter like leaves or needles, twigs, bark, or cones and small branches should be a maximum of 3″ in depth.
Logs or stumps embedded in the soil must be removed or isolated from other vegetation within 100′ of structures or the property lines.
Address numbers should be displayed clearly inh contrasting colors 4″ or larger and readable from the street or access roads.
All fire apparatus access roads should be unobstructed with vertical clearance of 13.5′ or more (fire engines are tall!)
Simple, Low Cost Ways to Create and Maintain Defensible Space around your home
Here are a few simple tasks you can do and do regularly or according to a schedule that will help keep your fire risk at bay year round.
Regularly clean your roof, gutters, decks, and the base of walls to avoid the accumulation of fallen leaves, needles, and other flammable materials.
Ensure that all combustible materials are removed from underneath, on top of, or within five feet of a deck.
Remove vegetation or other combustible materials that are within five feet of windows and glass doors.
Replace wood mulch products within five feet of all structures with noncombustible products such as dirt, stone, or gravel.
Remove all dead or dying grass, plants, shrubs, trees, branches, leaves, weeds, and pine needles within 30 feet of all structures or to the property line.
Ensure exposed firewood is stored at least 30 feet away from structures or completely covered in a fire-resistant material that will not allow embers to penetrate. Additionally, make sure you have 10 feet of clearance around your wood piles.
Be sure to store combustible outdoor furnishings away from your home when not in use.
Remember to properly store retractable awnings and umbrellas when not in use so they do not collect leaves and embers.
Common Questions and Answers about Fire Mitigation in Vista and North San Diego County
What type of Fire Extinguisher should you buy? Homeowners should buy an extinguisher rated for class A-B-C fires, one designed to extinguish the types of fires that usually occur in a home; wood, paper, flammable liquids and electrical. You can get them at Lowes or Home Depot.
Where should I install Smoke Alarms and what is the recommended maintenance? Smoke alarms shall be installed as follows: in each bedroom or room that could be used for sleeping purposes, in the hallway/area accessing each sleeping area and on each floor/level including basements. Alarms at new construction shall be permanently wired with battery back-up; if permanent wiring of alarms at existing construction is not feasible, then battery operated is acceptable. All alarms shall be audible in all sleeping areas. Smoke alarms should be tested every month, the battery should be replaced every six months, and the smoke alarm itself should be replaced every 10 years.
What about Carbon Monoxide Alarms? Per California Senate Bill 183, as of July 1, 2011, all existing single family homes are required to have carbon monoxide (CO) alarms. As of January 1, 2013, all other types of residences (apartments, condominiums, etc.) are required to have carbon monoxide alarms as well.

The new requirements apply if ANY of the following are present within a home:
attached garage
natural gas or propane furnace and/or water heater
any natural gas or propane appliance; range and/or oven and clothes dryer
natural gas, propane, or wood-burning fireplace or other similar heating appliances.
If required, they are to be installed in the hallway/area accessing each sleeping area and on each floor/level including basements. The California Building Code has similar requirements for all new homes and for existing homes undergoing alterations and repairs requiring building permits. Alarms at new construction shall be permanently wired with battery back-up; if permanent wiring of alarms at existing construction is not feasible, then battery operated is acceptable.

What is considered an "improvement"? Improvement means any building or structure, permanent or temporary, erected for the support, shelter, or enclosure of persons, animals, chattels, or property of any kind located in the unincorporated area of the County of San Diego subject to this chapter and shall include agricultural crops. For purposes of this chapter, the term "improvement" shall not include decks, sheds, gazebos, freestanding open-sided shade structures and similar accessory structures less than 250 square feet and 30 feet or more from a dwelling, and fences more than 5 feet from a dwelling.
What Now?
I hope that was helpful. If you read through this article you should have a very good idea of what you need to do to create defensible space around your Vista or North San Diego County home. If you have any questions about what I have written or the process please give me a call. I am not an expert on fire mitigation but I can help point you in the right direction.
Please stay tuned for the next installment where I dive into fire hardening and what you can do to help fire harden your home. Fire Hardened does not mean fireproof, it means your home is better prepared for a wildfire and an ember storm. Home hardening addresses the most vulnerable components of your house with building materials and installation techniques that increase resistance to heat, flames, and embers that accompany most wildfires. Please stay tuned for that.
Thank you for reading!
Casey Cooke
www.Vista411.com Ambassador
Here are some useful links and resources:
Personal fire action plan
Cal fire
Planning for wildfires
Disaster safety website
www.readysandiego.org/wildfire
Cal Fire Ready Set Go plan on YouTube